Festivals are an important part of traditional life in the Republic of Malta and most of them are religious or have a religious origin. Throughout the archipelago, local villages and parishes will celebrate their own Catholic patron saint with much fervour, and each celebration will include a High Mass with a sermon focused on the life and accomplishments of the patron saint. In the evening, a statue of the patron saint will be paraded in the streets, before a more lively part of the festivities commences with fireworks and late-night parties.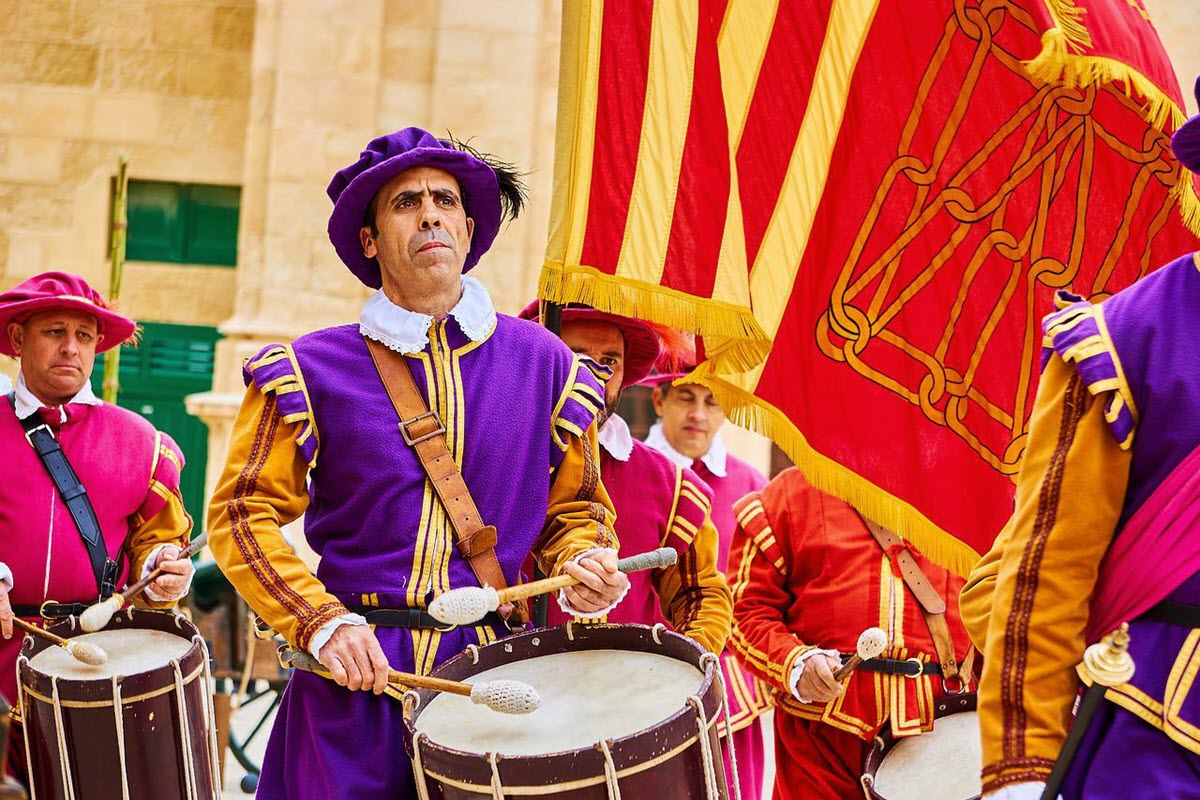 Carnival of Malta
The concept of holding a big Italian-style carnival during the week leading up to Ash Wednesday was introduced to Malta by the Grand Master Piero de Ponte in 1535. Today, the Malta carnival includes masquerade balls, grotesque mask contests, and a colourful parade of marching bands and allegorical floats. The parade is presided over by r-Re tal-Karnival – the Carnival King.
Holy week in Malta
Numerous Catholic traditions are upheld in Malta during Holy Week, i.e. from Palm Sunday through Easter Sunday.
Mnarja
Mnarja, also known as l-Imnarja (pronounced lim-nar-ya), is a festival dedicated to the feast of Saint Peter and Saint Paul. It is one of the largest Catholic celebrations in Malta, and was offered by the Catholic church as an alternative to the Roman feast of Luminaria which was celebrated with bonfires and torches in early summer.
Mnarja is celebrated annually on June 28-29 and is composed of several elements. In Buskett Gardens, a big party kicks off on the 28th with food and drink, dancing, folk music and traditional ghana singing. A long-held custom in Malta is that when a couple gets married, the groom promises his bride that as his wife, she will be brought by him to the Mnarja party. For luck, it was common for recently married women to attend the party wearing their gown and veil, but this tradition is now gone.
The traditional food for the Mnarja party is rabbit stew, which is served with local wine. According to legend, the Knights Hospitaller only permitted the Maltese population to hunt and eat wild rabbit during Mnarja.
June 29 is a public holiday in Malta and the revelry in Buskett Gardens gives room for an agricultural festival showcasing and selling locally produced products. This element of Mnarja was introduced in 1854, when the island of Malta was under British control.
In the afternoon of the 29th, move on to Telgha tas-Saqqajja (Saqqajja Hill) to see the bareback horse and donkey races.
Isle of MTV
Among the secular events on Malta we find Isle of MTV, a annual one-day musical festival held on Malta since 2007. Examples of artists that have performed at Isle of MTV in the past are Nelly Furtado, Flo Rida, Ava Max, Martin Garrix, The Black Eyed Peas, Enrique Iglesias, Afrojack, Snoop Dogg, David Guetta, Chemical Brothers, Gorillaz, and Lady Gaga.
The Malta International Fireworks Festival
This annual festival has been taking place in the Grand Harbour of Valletta since 2003, with a Pyromusical Competition where each fireworks display is designed to match the music. In most years, the festival is held in the last week of April.
Fireworks have been very popular in Malta for several centuries, so it is not surprising that the country is now home to a week-long fireworks festival. When Malta was still under the control of the Knights Hospitaller, the Order put on special pyrotechnic displays for the most important celebrations, e.g. to mark the election of a Pope or a new Grand Master for the Order. This made a huge impression on the local residents, and fireworks have been an important tradition in Malta ever since. Did you know that Malta has some 35 fireworks factories?