Located between the much larger islands Malta and Gozo, Comino is a small island in the Maltese archipelago named after the cumin spice.
We know that Comino was inhabited as early as the Roman era, but for long periods since then it has been sparsely populated, privately owned or completely desolated. Today, the island is a nature reserve and bird sanctuary. In 2020, one of the three remaining residents died, bringing to the total human population down to two individuals. Administratively, Comino is a part of the municipality Għajnsielem in south-eastern Gozo. One priest and one police officer commute to Comino from Gozo.
The island has a karst landscape dominated by shrubland. In the past, some pine tree planting has taken place, but only on a very limited scale. On the sand dunes at Santa Maria bay, you can find Vitex trees and Tamarix trees.
The island supports 50-80 breeding pairs of Mediterranean shearwater (Puffinus yelkouan), a species listed as Vulnerable on the IUCN Red List. The Mediterranean shearwater nests in a burrow, and to prevent predation by large gulls, it only visits its burrow at night. The whole island of Comino is identified as an Important Bird Area (IBA) by BirdLife International.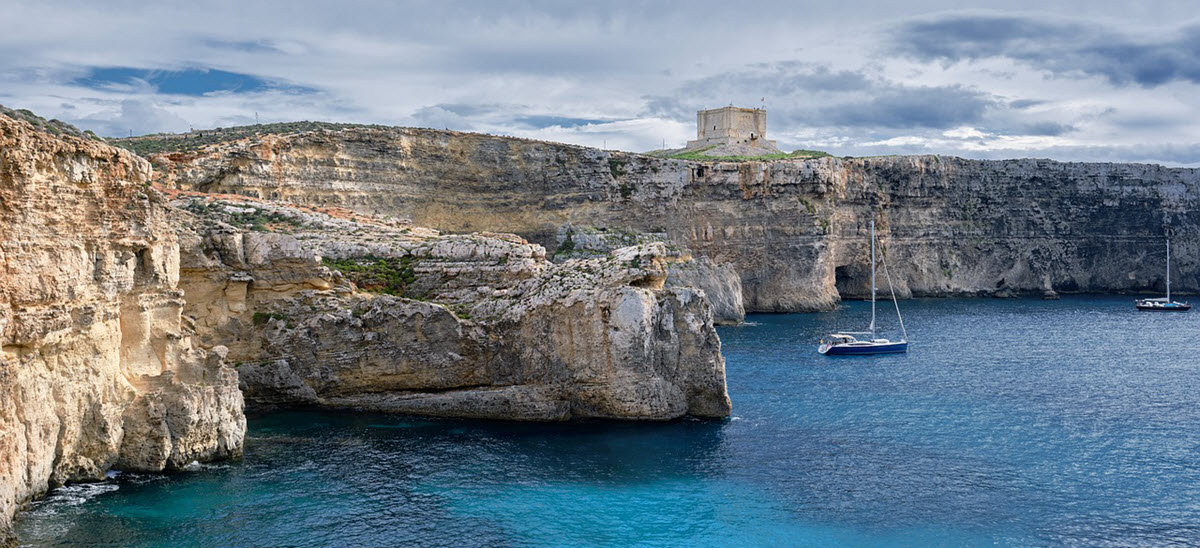 Getting to Comino
Comino is connected by ferry to both Malta and Gozo.
On Gozo, scheduled ferries to Comino depart from Mgarr.
On Malta, scheduled ferries to Comino depart from Cirkewwa.
A private boat taxi service is also available.
Saint Mary's Tower
Saint Mary's Tower (Maltese: Torri ta' Santa Marija), also known as the Comino Tower (Maltese: Torri ta' Kemmuna), is a large bastioned watchtower built-in 1618 as the fifth of six towers ordered by Grandmaster Wignacourt.
Located roughly in the centre of the southern coast of Comino, the tower is a prominent landmark and can be clearly seen from both Malta and Gozo. The tower was built about 80 metres above sea level and rests on a raised platform and plinth that are 8 metres high. The tower itself is roughly 12 metres tall. This is a square tower with four corner turrets, and the walls are about six metres thick.
For centuries, the tower was a part of Malta´s defence system under the various rulers, but in 2002 it passed from the Armed Forces of Malta to the non-profit NGO Din l-Art Ħelwa. In addition to being preserved for its historical value, it now serves as a lookout post for those who guard against smugglers and illegal bird hunters.
St. Mary´s Chapel
St. Mary´s Chapel, formally named The Chapel of the Return of the Holy Family from Egypt, is a Catholic chapel in the Bay of St. Mary. Many people simply call it the Comino chapel.
As early as the 1100s, a chapel dedicated to the Assumption of St. Mary was built in this bay, and that is why it is called the Bay of St. Mary. The current chapel was built in 1618, and enlarged in both 1667 and 1716.
Saint Mary's Battery
Saint Mary´s Battery was built in 1716, during a period when several batteries were constructed in the Maltese archipelago. This battery is close to the shore and faces the South Comino Channel.
Two 24-pound iron cannons still remain in the battery.
Beaches
Examples of nice beached on Comino are Santa Maria Bay and St. Nicholas Bay.
Popular culture
Comino can be seen in several movies, including blockbusters such as Troy (2004) and The Count of Monte Cristo (2002) and Swept Away (2002). For the filming of the Count of Monte Cristo, St. Mary´s Tower on Comino was used to depict Château d'If.
Timeline of Comino
Comino was inhabited by farmers during Roman times.
In the Middle Ages, pirates and marauders made use of the coves and deep caves found in Comino´s limestone cliffs.
In circa 1285-1291, the exiled Jewish prophet and Kabbalist Abraham Abulafia lived on Comino.
The Knights Hospitaller used Comino for recreation and for hunting wild boar and hare. Poachers could be sentenced to three years as a galley slaves.
In the 1500s and 1600s, knights who were convicted of minor crimes could be sentenced to man St. Mary´s Tower on Comino.
When Malta was under French control, Comino was used as a quarantine island and some existing buildings were utilized to isolate patients.